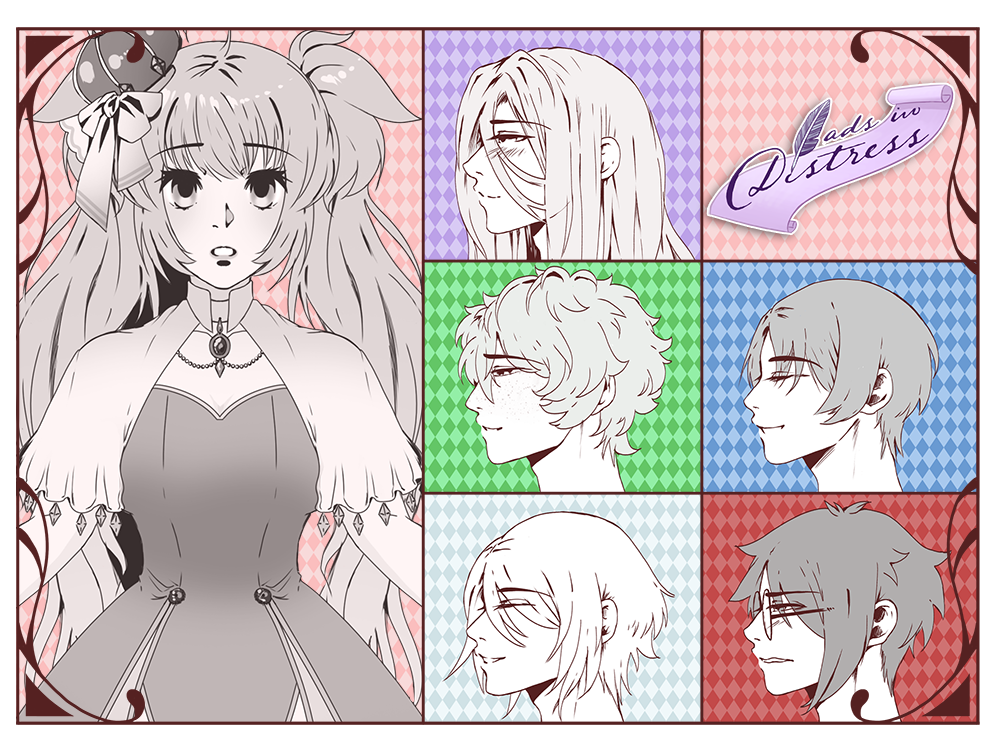 Lads in Distress (New Demo)
Explanation Regarding New Demo Being Temporarily Unavailable + Other Important Updates
---
Hello!
This is Windchimes, the leader of the Lads in Distress project.

First, I need to apologize for not making an announcement here on Itch.io until now. Honestly, I completely forgot about the devlog feature on this. So here I am, with a very late explanation / announcement regarding the new demo.
As you guys may know, we originally had the NaNoRenO 2016 version of the game completed. In July 2017, we pulled the original NaNoRenO '16 version, replacing it with a new demo of the full expansion with 5 routes instead of 3. Some time last year, we also removed the download links to the new demo.

The following are the belated announcements / explanation (that were previously posted on Tumblr):

The artist, Greenace, who did most of the character art and CG art for the new demo of Lads in Distress has departed from the team.
As a result, we have recruited a new artist to do the character and CG art — Karamelow.
For various reasons, such as to try to reduce the inconsistency in art (rather than having character art be done by 3 different artists, it'll be reduced to 2), we will be replacing Greenace's work in the new demo (and full game) with Melow's. Ellis will be redesigned and redrawn once more.
Therefore, the download links to the new demo have been removed.
The new demo will be put back up once we finish replacing all of Greenace's artwork in there with Melow's.
Currently, all the artwork for the demo has been completed. We're in the process of recoding them back into the game. This will take some time, as I'm the main programmer and I'm currently wrapping up my last semester of law school as well as prioritizing my own commercial otome game. I'm hoping to finish this and reupload Lads in Distress new demo by June 2019.
So yeah! Hopefully, you guys won't have to wait too long before you get to check out the new demo with the new art!
On the note of announcements, we also have a couple of important (belated) announcements regarding the writing:
Perennial Lily, the writer for Mer's route, will no longer be writing for Lads in Distress due to personal reasons.
We are now recruiting 1-2 new co-writers to cover Mer's and Ellis' routes. Recruitment information can be found on our Tumblr: https://ladsindistress.tumblr.com/post/183999069507/introduction-hey-everyone-th...
Well, I think that's all I needed to say for now. Again, sorry about forgetting entirely about the announcement devlog feature on Itch.io. Also, I apologize for not responding to comments on the Itch.io page. I haven't been receiving the notifications emails, so I keep forgetting to check on the Itch.io page for comments and reply. Thank you so much to the ones who have been responding to questions on our behalf! I'll try to remember to check back on Itch.io more often to answer any queries that may arise. If you want any updates on the game, please do visit our Tumblr (https://ladsindistress.tumblr.com/), as we post there much more often.

Anyways, thank you so much for the continuous support and patience! It's been a rough journey for Lads in Distress, but the team is determined to see it through to the end somehow. Your support really means a lot to us and helps motivate us to continue! :)